The Carachapampa Project is located in the Maricunga Belt, one of the most prolific gold belts in South America. This includes many large scale high sulphidation epithermal deposits including El Morro - 19M oz AuEq (formerly Goldcorp, now Newmont), Caspiche - 20M oz AuEq (Barrick Gold & Newmont), and Cerro Casale - 26M oz AuEq (Barrick Gold & Newmont).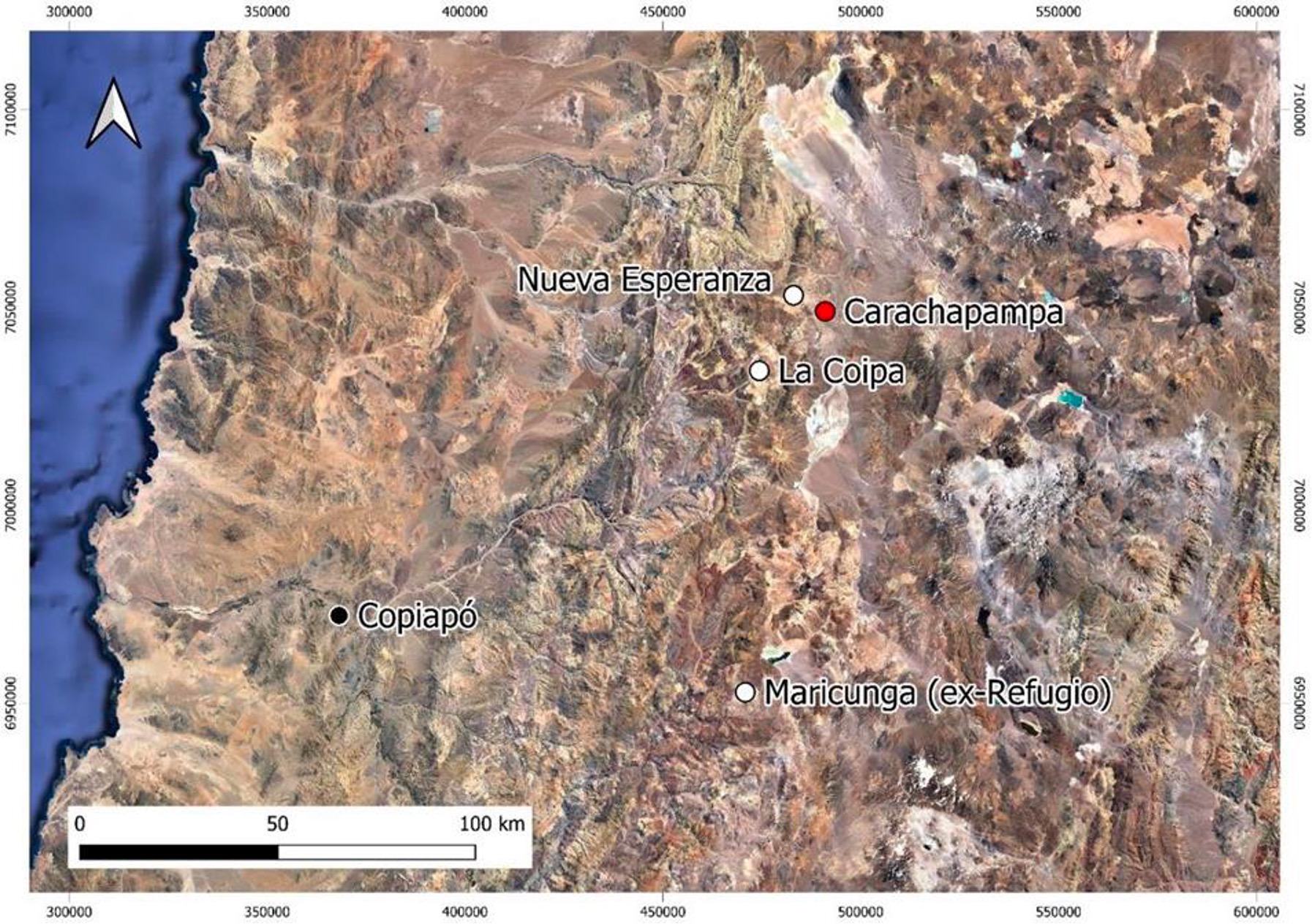 Two Miocene volcanic dome complexes occur on the property, an essential geological component for high sulfidation epithermal gold mineralization. The domes are aligned on the same NW/SE structural corridor controlling the Arqueros and Teterita gold-silver deposits, the locus for the mineralizing fluids. Halcones has identified four target areas all with gold mineralization at Carachapampa (blue dashed circles), Central Target, Northwest Target, Falda East Target and Mina del Indio Target. In the Carachapampa area the mineralized zones occur relatively close to or at surface in this part of the belt.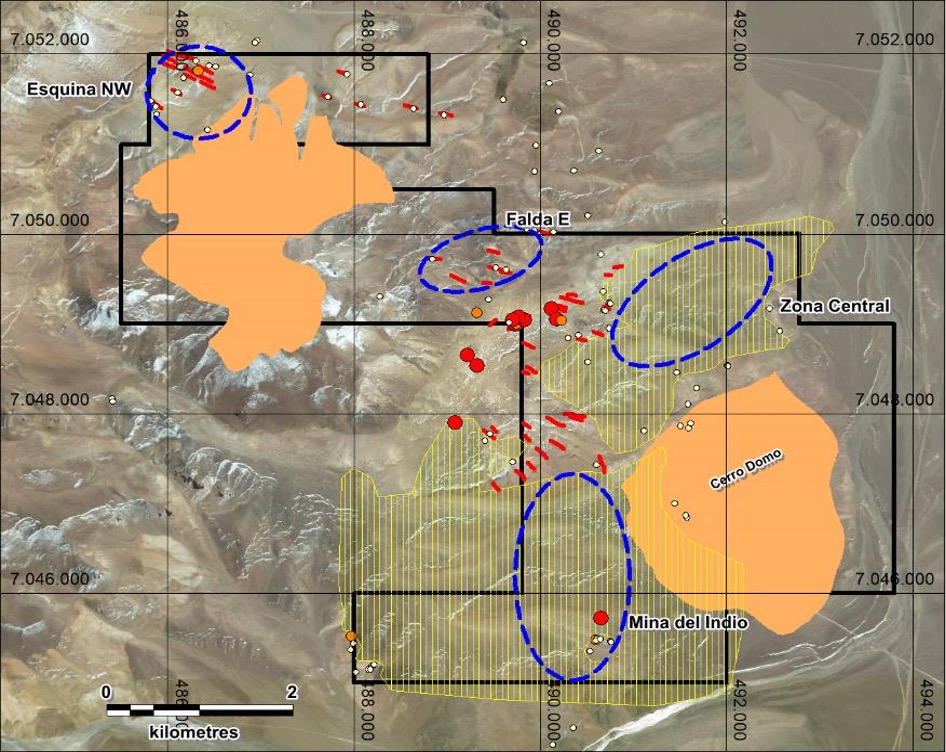 Widespread Gold - Silver Mineralization
Gold Samples (Below)
Red dots shows grades above 1 g/t to 20 g/t.
Orange dots shows grades above 0.5 g/t and below 1 g/t.
Mineralization has been identified in all target areas with very minor exposure of the basement rocks through the cover.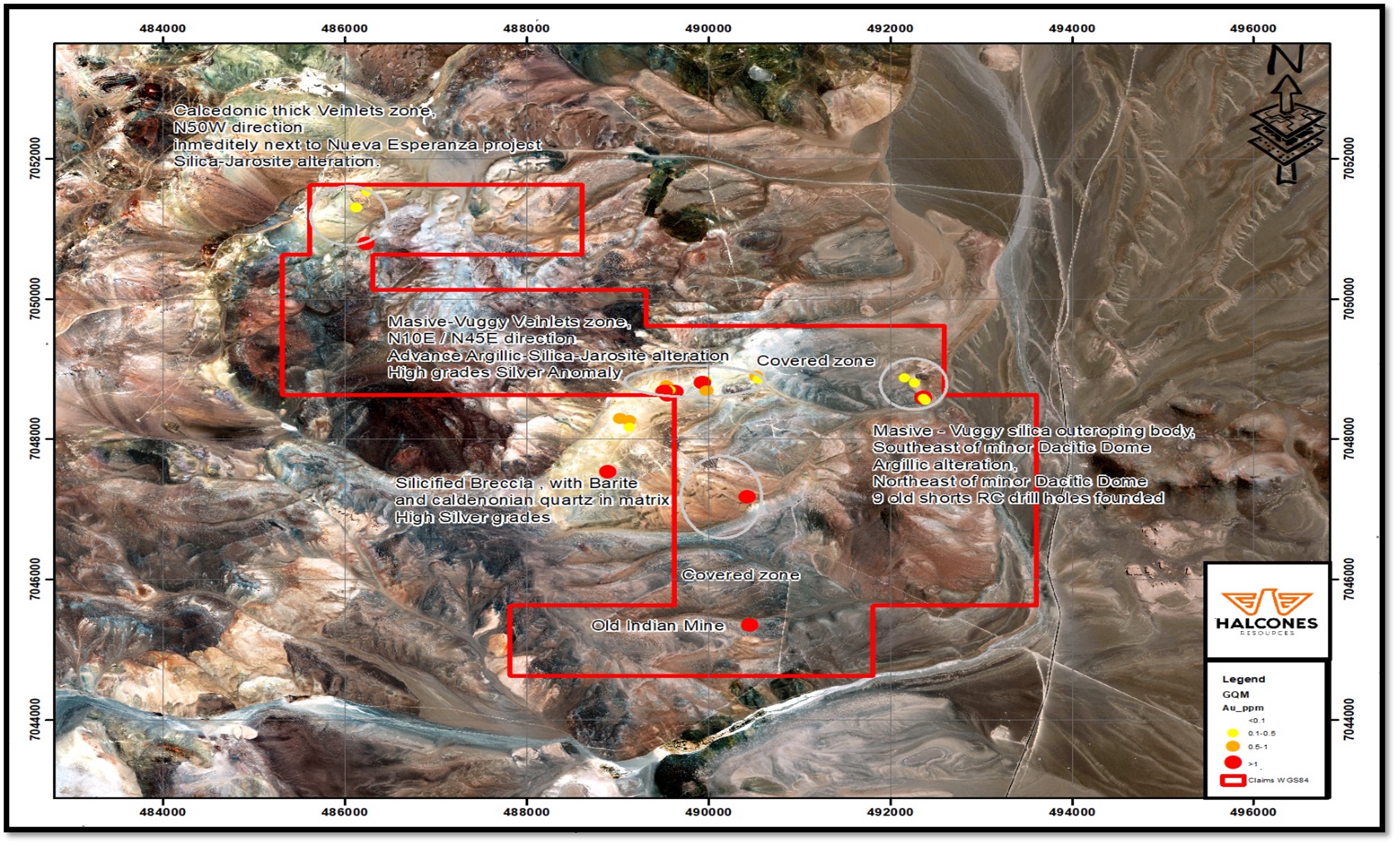 ---
Central Target
IP survey over the Central Zone target shows high chargeability and resistivity anomalies, with the strongest chargeabilities centered near the main structure (the stream) and strong chargeabilities along nearly the entire line, indicating that alteration underlies all the gravel and post-mineral cover. There is more than 8 kilometers of extension from the highest grades of Au in the eastern side of the line through the high Ag anomaly and the old artisanal workings zone to the Carachapampa hill north dome complex on the western side.

Chargeability and resistivity anomalies in the Central Zone target that are indicative of higher silicification (vuggy and massive silica alteration). This may suggest that higher grades may occur in this target.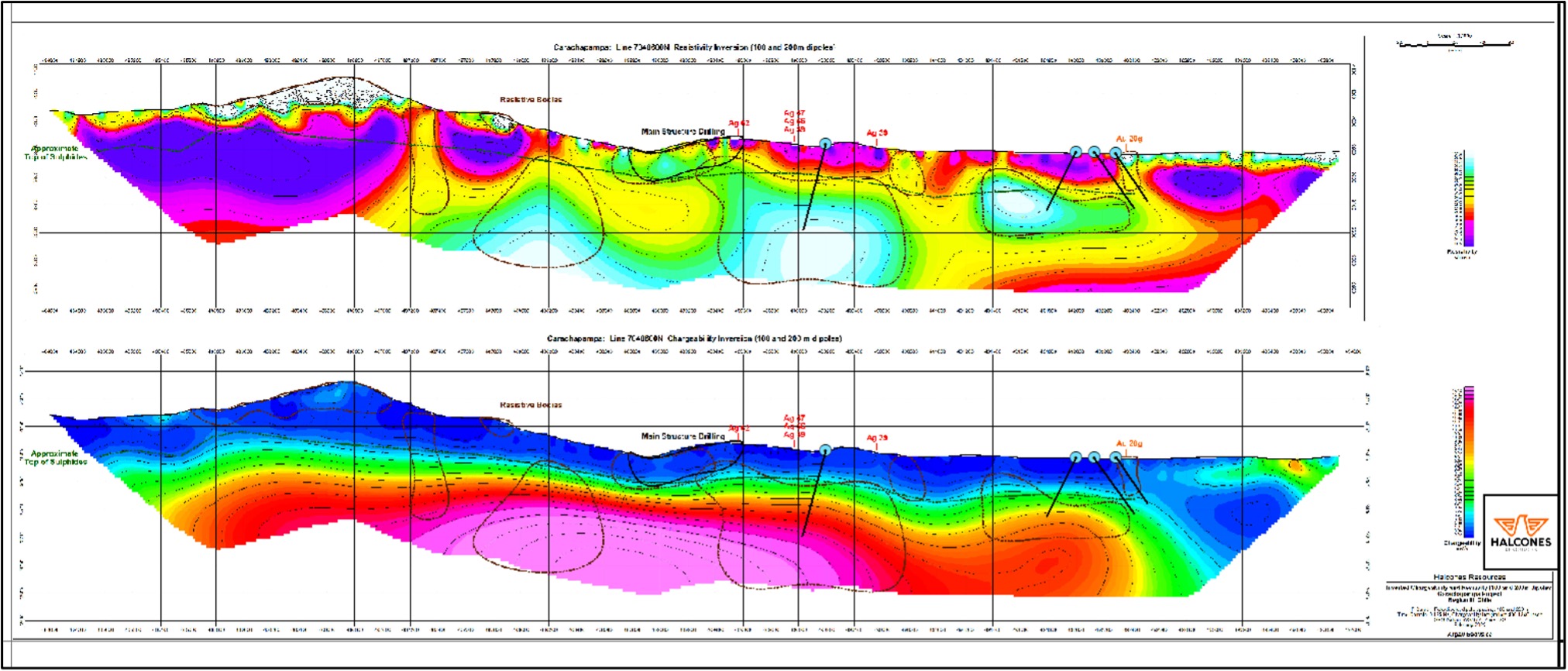 The Au/Ag mine exploited by Pirquineros is shown below. This specific mined vein is located close to Central Zone. Rock chip sampling returned values up to 8g/t Au (red arrow). The former operator – Condor Blancos – produced drillholes that were an average depth of 100m or less testing the vein system. Based on veins textures and alteration mapped here, there is an excellent opportunity to discover a larger gold system at deeper levels, as these veins tend to bleed off the larger system.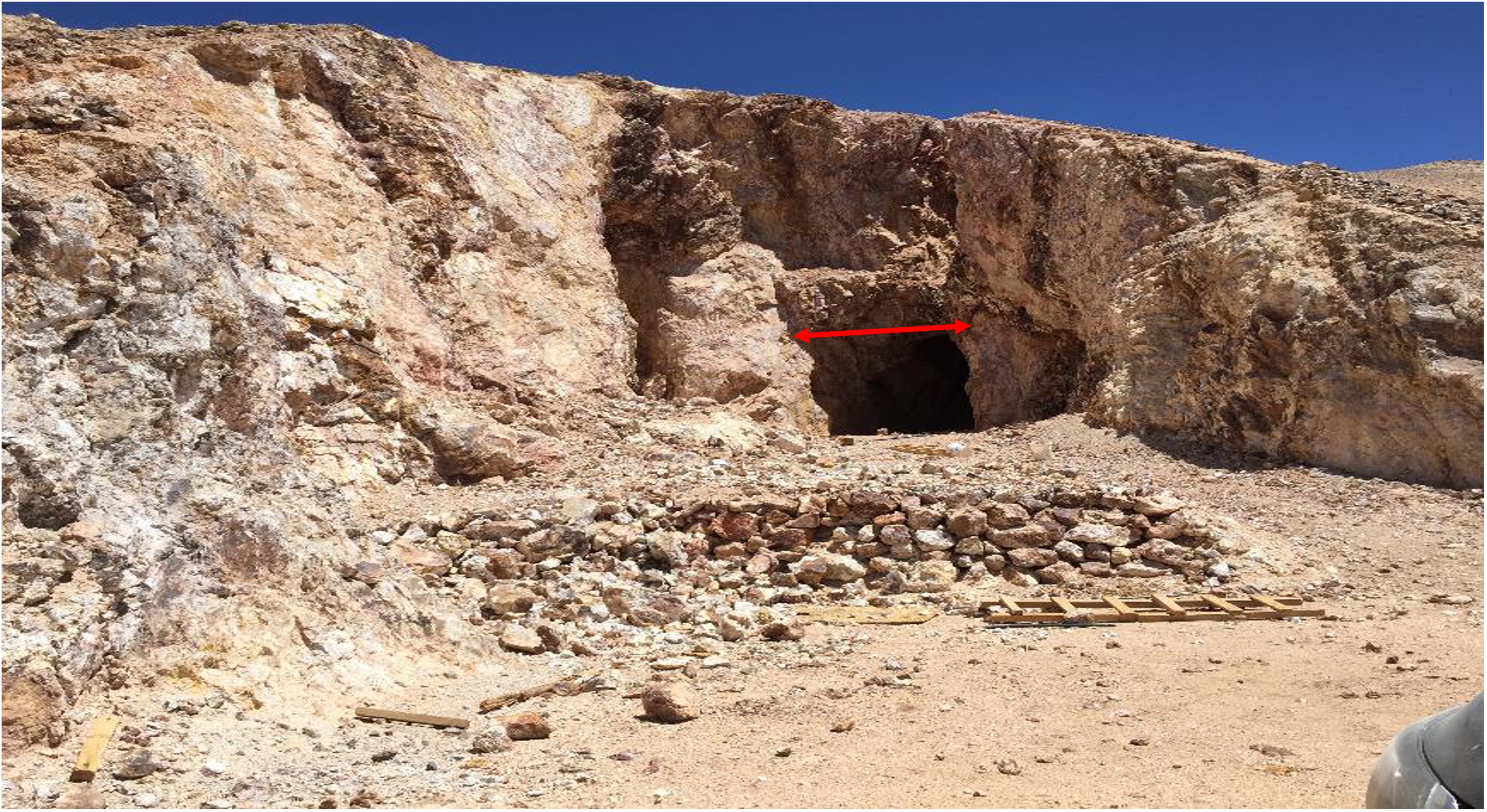 ---
Northwest Target
The Northwest target is Located 2.5km SE of the Chimberos deposit along the same NW structural corridor that controls Chimberos. This target hosts massive quartz-alunite with vuggy texture exposed over 500x200m and open under shallow cover. Northernmost IP line returned strong chargeability below the surface trench sampling.
Most of the Carachapampa is covered by a thin layer of recent volcanic and gravel cover. As a result, trenches were opened to map alteration and mineralization below the thin cover. In the photos below, intense advanced argillic alternation is present below the thin cover. The first phase of the assessment returned Au values up to 1.1g/t and widespread high As-Bi-Pb-Sb anomalies.
---
Falda East
Falda East is located at the SE of NW dome, also in the NW-SE Nueva Esperanza-Carachapampa structural corridor. This target hosts banded crystalline quartz-limonite veining in an intensely chalcedonic silicified-limonitized rock and quartz-alunite hosting moderate acid leaching texture veins exposed in trenches carried out by previous explorers (shown below). The geophysics shows a moderate chargeability anomaly and deep resistors.
---
Mina del Indio
Mina del Indio is primarily a young tuff cover overlying multiple quartz-alunite structures. Several erosional windows, as well as two trenches, expose advanced argillic altered rocks with anomalous gold, silver and arsenic and siliceous hydrothermal breccia bearing barite (figure below). Barite is a marker mineral for upper levels at HS epithermal mineralization systems, suggesting that most of it has been preserved from erosion. The geophysics shows a moderate chargeability anomaly and deep resistors.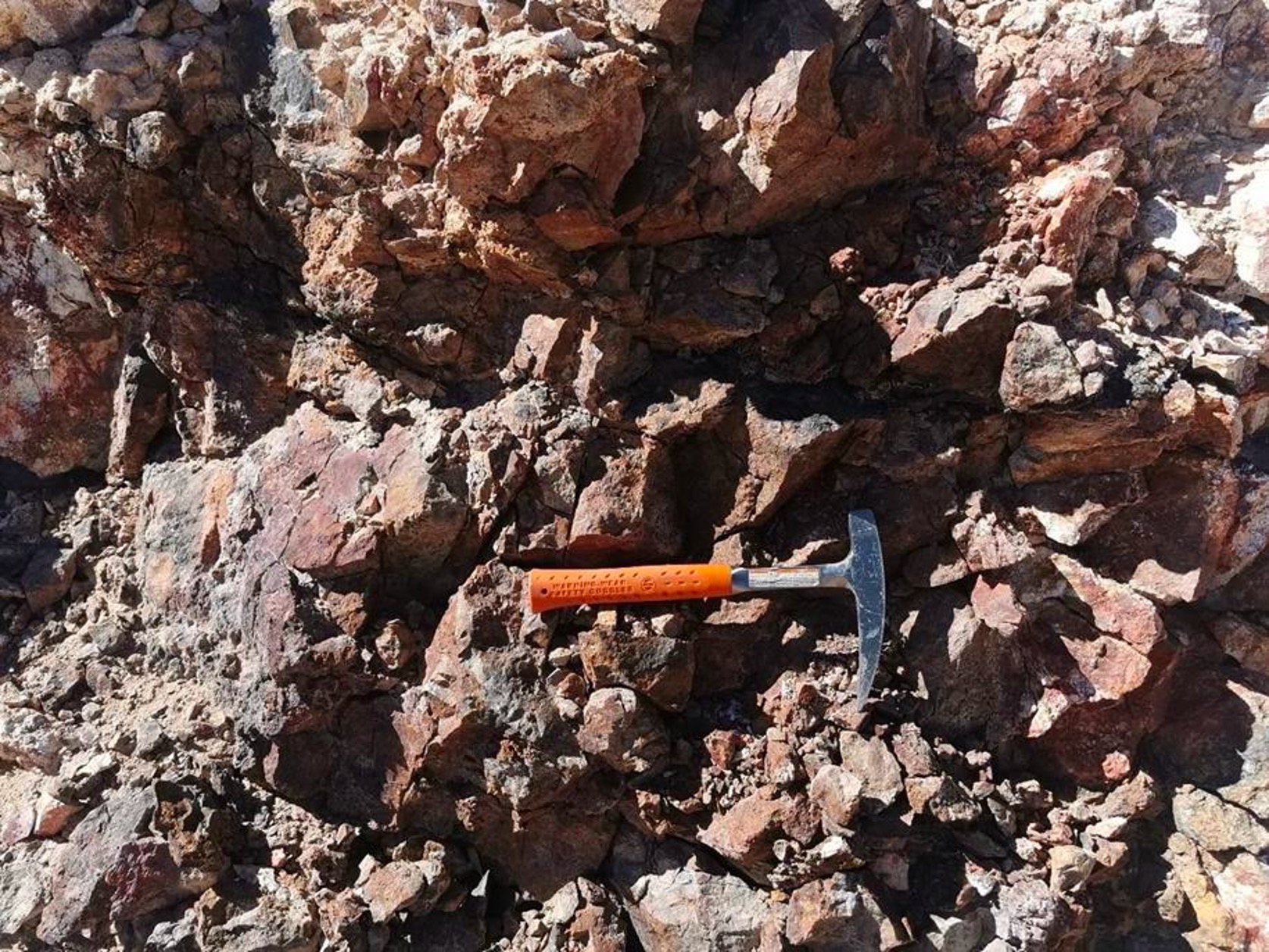 New mineralized zones discovered in the Mina del Indio Target are shown below. Extensive zone of intense silicification with vuggy quartz zones extend for more than 10 meters along the trench before exposure goes into overburden – assays pending. Samples from mapping in this area graded 3.54 and 1.72 g/t gold.